We integrate our values into what we do, every step of the way. Whether it be the way we work, recruiting employees, building a community, we do it all with a distinct Boombay flair.
Shared Passion

We spend our time experimenting with unique ingredients, putting unusual palates together, concocting exciting recipes and discovering better ways of doing something. We don't do what we do because it's a job, we genuinely love what we do.
100% Authentic

There is utmost honesty, clarity, and purpose in everything we do. We don't shy away from difficult questions, and neither do we sugarcoat the facts. If you have a question, just ask us. [ask us links to the contact us page on the website]
Mutual Respect

We value not just the food that we make, but the people involved in the process too. This means amplifying each and every voice in the workplace. As a company, we make sure that everyone's contribution is valued, giving our partners and the farmers we collaborate with the support they need.
Honest Intentions

It's important that every member of our team is proud of what they do and feel joy in contributing to the larger well-being of planetary and human health. We make sure we evaluate every possible option before making decisions, to find a solution that works best for everyone involved from seed to sauce.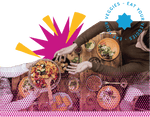 Our Team
We're a curious and committed bunch who share the same passion - to make healthy eating exciting.
Our team is made up of people who:
Love cooking, eating, and all things food. We make every single bite count.
Love getting creative and finding new ways to tackle old problems.
Are passionate about traveling off-the-beaten-path.
Believe in being part of a system that impacts our lives positively and makes people feel good about themselves.
Love exploring and discovering new foods, and aim to encourage everyone to venture through the world of food with confidence and excitement.
Can get a little nerdy when it comes to food. The thought of discovering new ingredients, coming up with recipes that have a high nutritional value and learning about the latest updates in food technology always excites us.
Care deeply about environmental restoration.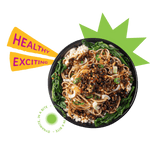 Working alongside people who share the same values and bring such a diverse range of experiences to the table gives us the fresh perspective we need to stray away from the mundane. And we wouldn't have it any other way.
Founder's Note
Niharika Goenka is the heart behind Boombay. While still a student of nutrition at Columbia University, her lifelong interest in food was sharpened into a singular obsession: to create world class food products that enrich and enhance lives.
After the success of her first food venture Arugula&Co., Boombay was built with the aim to create sustainable and 100% natural food systems, better human health, and of course, delicious food. An embodiment of her love for and fascination with the enticing world of food, the brand reflects just how wholesome and good the food industry can be.
Want to know more? Join us.